When DUBTONIC KRU was awarded the BEST NEW BAND IN THE WORLD title for 2010-2011 ahead of several hundred of their contemporaries who entered the Global Battle of the Bands competition in Malaysia in February 2011, very few people outside Jamaica and Europe new the name – irrespective of the fact that the band had been creating and play roots reggae music for several years. Since then they have toured more cities in the US and Europe than any other reggae band in recent memory. In the two years after winning the competition (2012 -2013), the band averaged 65 dates per year touring the United States, Europe and Asia. In 2014-2015, the band went back into the studio to produce new music. Thus they averaged approximately half the number of tour dates compared to the previous two years.
Like the famous reggae music duo Sly Dunbar and Robbie Shakespeare (Sly & Robbie), the "heart and soul" of the band are college mates and founding members Deleon "Jubba" White on drums and Strickland "Stone" Stone on bass.
These two met while attending the Edna Manley College of Music in Kingston, Jamaica from 1994 – 1997. The duo have been together for approximately sixteen years – gaining more than ten years of early experience touring and recording (like Sly & Robbie) with several artists like Max Romeo, U-Roy, Burning Spear, The Mighty Diamonds, Bushman, Junior Kelly, Richie Spice and Lutan Fyah. During this period they were also the architects of the famous computer-based "I Swear" rhythm that featured multiple artists – including Richie Spice, Chuck Fender, and reggae culture warrior – Sizzla Kalonji.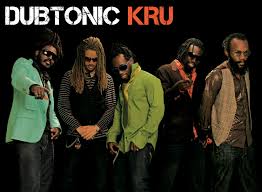 The name Dubtonic comes from consolidation of two terms:  Dub – a reference reserved for the heavy drum and bass of reggae music. It is commonly considered a sub-genre and today extend beyond the scope of reggae with the work of artists such as Osbourne "King Tubby" Ruddock, Lee "Scratch" Perry, Neil Joseph "Mad Professor" Fraser and more recently – electronic sampler, Major Lazar. The second component of the name comes from the word Tonic – a kind of refreshing, invigorating, restorative agent, food or medicine that improves one's health and well-being.
The group really blossomed as a hard core roots reggae band in the past eight years with the addition of guitarist/vocalist Omar "Jallanzo" Johnson, Luke Dixon – work station/keyboard and Horace "Kamau" Morgan (the quite warrior) – vocals/percussion**. The group graduated from backing band to producers of some of the most conscious, thought-provoking lyrics backed by the kind of rhythm/dub section that is comparable to the music played by mentors like Lloyd Knibbs, Jackie Jackson and Jah Jerry (original Skatalites) in the 1970s.The music that cemented Jamaica on the world stage as the birthplace of reggae music and the "loudest little island" on earth.
Their musical contributions over the years have earned them a US Congressional Proclamation – presented by Congresswoman Yvette Clarke; a Simba Award from the Coalition for Preservation of Reggae Music (CPR) and a People's Choice Award – presented by Jamaica's Star – the sole afternoon news paper in the country. Dubtonic Kru is totally committed to raising the bar in reggae music at a time when reggae fans and supporters all over the world are questioning Jamaica's commitment to maintaining both the content standard and musical quality that Bob Marley, Jimmy Cliff, Peter Tosh, Burning Spear, Third World, Desmond Dekker and others employed to put Jamaica on the map.
Among the band's releases to date are the following CDs:
Everlasting Love
Dub Conscious
Dubtonic Kru
Evolution
In addition, they have released a number of singles – including the mega hit "Murder". More information on the band, including their latest touring schedule, is available on their website at:  dubtonickru.com 

** Horace "Kamau" Morgan (the quite warrior), vocalist and percussionist recently resumed his solo recording career (which he placed "on hold" when he joined the band in 2006) under the recording name Kamau Imhotep. His latest single Jah Jah Soldier is making waves on Jamaican radio and on international charts – including on the Kingston12.net new music playlist.
Fans and other readers of this article can also connect with the "Kru" at:
twitter.com/dubtonickru
facebook.com/dubtonickrupage
soundcloud.com/dubtonic-kru
instagram.com/dubtonickru