BY LIONSOUL (MARCH 16, 2011)
(For duttyarts.com)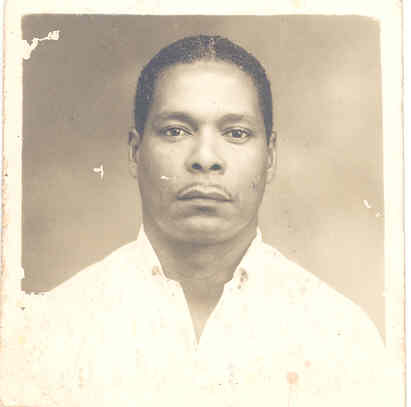 When DA's (duttyarts.com) digital guru, Taliesin, asked me to do a regular post on sound system culture, it wasn't long after we attended the pre-funeral celebration for Cyril Braithwaite. So it makes perfect sense to start a series about sound systems with a focus on "Count C", a foundation soundman who was shelling it down before dancehall, before reggae, before ska.
In a recent Jamaica Gleaner article, writer Howard Campbell refers to me referring to the recently passed sound system operator Cyril "Count C" Braithwaite as an "unsung hero" in Jamaican popular culture. Looking back, I have to clarify that his praises have been sung from Ken Boothe to King Sporty—both of whom claimed Count C as their mentor. It's just hard, I believe, to adequately sing the significance of a Soundman who never left his community in over 60 years. The ephemeral nature of a few quotes and newspaper articles do not do justice to the lasting influence of a man like Cyril Braithwaite. Indeed, sound men like Count C don't just shake the earth with sound they shake the status quo with their social and cultural power.
Count C cemented his status in his West Kingston community, and in Jamaican music and cultural history, when he launched the Count C Sound System in 1947. Radio was nonexistent and, even when it did arrive in Jamaica in the late 1950s, few in West Kingston could afford either the box or the pay-as-you-go (Radiffusion) service. In times like these a sound man like Count C really was royalty. His was a small sound (a few horns and an over-sized, 5ft+ speaker, familiarly called a 'House of Joy'), but he was tough. Count C would never back down from a challenge, even when Duke Reid and the "big dogs" arrived on the scene.
Almost more than the music, it was Count C's commitment and connection to his West Kingston community that stands out. Cyril Braithwaite was born in the 1920s into a family residing in Back-O-Wall, the West Kingston area which became the center of Jamaica's nascent political power struggle during the transition to independence. Back-O-Wall was subsequently razed in 1963 to make way for the Tivoli Gardens housing scheme. Cyril Braithwaite died January 26, 2011, a resident of 6 Wellington Street, just a stone's throw from Tivoli. (Indeed, when the Wednesday night/Thursday morning street dance, Passa Passa, used to be held just outside Tivoli on Spanish Town Road, Count C lived so close (he could claim to have attended every single one.).
Decades after Back-O-Wall was transformed into Tivoli Gardens, the infamous focus of the manhunt for Christopher 'Dudus' Coke for much of 2010, current residents still find themselves in a struggle with authorities despite the passage of time and the fact that Dudus was already arrested.
Wellington Street is relatively short and narrow, with just enough room for a moving vehicle to slide by another parked to the side. About 100 yards long, bordered by Charles Street on one end and North Street on the other, Wellington Street is more like a lane. In this area, Count C was the first to own a television, a car (which he would trade out whenever a new one caught his fancy) and a two-story home (which Hurricane Gilbert brought down to one in 1998).

Fast forward – to February 2011. The security forces patrolling the area at night in their jeeps had to squeeze by the line of cars that brought out the people from uptown and downtown for Count C's 'set up', a
Jamaican celebration traditionally held the night before the funeral. Count C's "set up" involved the earth shaking frequencies of Exodus Nuclear Sound System (which was started by Count C's son Father Romie), a photo slide show and enough rum, beer, soup and curried chicken to feed neighbors, friends and family as well as friends of neighbors, friends and family.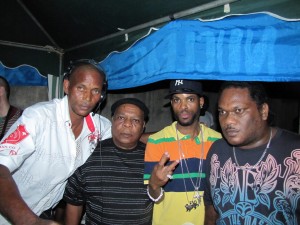 Father Romie (2nd fr L) and Gary Exodus (R) with members of Exodus Nuclear in Count C's West Kingston yard, Feb 2011
Father Romie, the oldest of Count C's 17 children, says "West Kingston was a place where kids could run loose. They would go into the market, take the country people's things and even gamble". He continues "Most of my friends dead out now. They gambled, thief, picked up a gun and end up, in a coffin. Count C's kids didn't do that. That's why I have to love my father."
By all accounts, Count C, aka the Wizard of the West, was tough man. Romie says Count C led a "rough life". Count C's grandson, Gary Exodus, thanks C for teaching him "how to be a no-nonsense person". In black and white photos from years gone by beamed in front of the deejay booth that night, Count C looked the part of a convincing street tough. The dead pan stare perched on a muscular neck portrayed a relaxed physical readiness that oozed "tough" without even saying a word. This was colonial Jamaica. In the 50s and 60s, the era of rude boys, dancehall crashers and budding downtown political violence, toughness was a virtue.
But toughness alone could only get you so far and perhaps straight to jail or the cemetery. Cyril
Braithwaite had bigger things in mind.
I first met Count C in 2007, the same year I started studying at the University of the West Indies in Kingston. Zeke Stern of Green Lion Crew had done an interview with Count C in 2006 and I followed up when I got to town. I knew Count C had outlasted 'vintage' contemporaries like Duke Reid, Sir Coxsone and Sir Nick. I was not aware of the breadth of his influence or the depth of his connection to his community.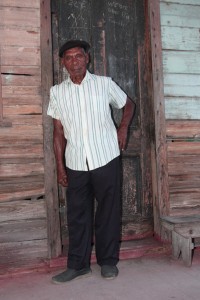 Count C at his yard in 2009 (photo courtesy of Roy Sweetland) (wrap around pic)
The last time I saw Count C alive was in early 2009 when I visited with Roy Sweetland –"photographer extraordinaire". (If my word isn't enough, Tarrus Riley wants you take his.) Roy's photo captured Count C in a new light. Now into his 80s, the deadpan stare is still clearly there, along with the relaxed readiness. This time though, the two-dimensional black and white photos from his youth have been replaced by a colorful, multi-dimensional man, confident in his own experience. A few snippets …On slackness: "I rebuke those things". On music: "Music keeps me alive till now". On sound systems: "Sound systems really make the people unite." No longer physically dominating, Count C was regal nonetheless.
Interviews with Count C in 2007 and 2008 provided the basis of a forthcoming article in the 2011 July/Aug issue of Wax Poetics. I had wished he would be able to read the article, hold the magazine in his hands, appreciate how his influence and example extended and extends beyond Wellington Street.
Although Count C has passed, the Braithwaite cultural lineage is by no means over. Father Romie's sound system, Exodus Nuclear, was of the earth shattering type when it was launched in 1986 and still plays out regularly. Father Romie has also hosted much of Vybz Kartel's prolific recording over the last couple years at the studio Romie built next to his home in Kingston's Havendale neighborhood. And Gary Exodus runs the Exodus dubplate studio, a social and creative hub where sounds from Paris to Poughkeepsie load up on musical ammunition with the hope that they will follow in the footsteps of the Wizard of the West, representing for their communities and making the impossible seem possible.

K12 Notes:
Ernest "Father Romie" Braithwaite still operates Exodus Nuclear Sound System.
It remains one of Kingston's most influential sound systems. The "sound" wields its sphere of influence in the Red Hills and Mannings Hill roads section of the City. It has been immortalized in songs by popular dancehall artists such as Vybz Kartel, Popcaan and Cham.
Ryan "Gary Exodus" Braithwaite still runs Exodus Nuclear Studio on Red Hills Road in Kingston is one of the most popular studio for recording dub plates in the city
This article was first published in 2011 in DUTTYARTZ digital magazine. Contact information is label@duttyartz.com