Kingston 12 represents the postal or zip code in West-Central Kingston, Jamaica that, along with adjacent areas of Trench Town (Kingston 13) and the south-central part of the city, was the axis of the cultural renaissance that gave the world Reggae music. It is the home of the Ambassador Theater – the place that was the flagship for presenting new talent to Jamaica and the world. The Ambassador (Bass), alongside the Majestic, Palace, and Ward theatres, provided the stages for the Vere John's Hour. This was the talent show that introduced the country and subsequently the world to artists like Alton Ellis, Ken Boothe, Bob Marley, Don Drummond, Jimmy Cliff, Desmond Dekker, Peter Tosh, Millie Small, Hortense Ellis, Bob Andy, Jackie Edwards, and many more of the stars that became the icons of the Reggae music industry.
Kingston 12 was the "Harlem" of the Caribbean – an area that attracted artists such as Jackie Opel and Lord Creator who came all the way from Barbados and Trinidad, respectively.
These artists in late 1950s to early 1960s became the foundation of Jamaica's Sound System Culture. As early as 1950, Tom Wong, a Jamaican of Chinese ancestry established "Tom the Great Sabastian" in East-Central Kingston. His sound system launched the career of the great Count Matchuki who later joined Clement Dodd's Sir Coxsone Downbeat. Tom's main rival at the time was Cyril Braithwaite's "Count C – the Wizard of the West." Count C dominated the western end of the city. These two sound systems laid the groundwork for the sound system culture which quickly followed Jamaican migration to England and the United States, and later provided the base for the spread of Ska, Rock Steady and Reggae worldwide.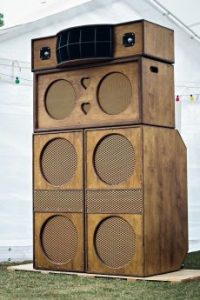 The sound system culture quickly spread amongst the poorer classes of   Kingston and adjacent parish – St Andrew. Several new players entered the   arena. The pioneers among them were Clement Dodd (Sir Coxsone's   Downbeat), Author "Duke" Reid (Duke Reid the Trojan), Vincent Edward's (King   Edward-the Giant) and Cecil "Prince Buster" Campbell's (Prince Buster –the   Voice of the People). That was around the same time Jamaican journalist, Vere   John, started a weekly one-hour talent show, which he named after himself. It   was a live performance showcase of fresh, young Jamaican talent. The audio of   the show was recorded for a later weekly broadcast on the country's single radio station: RJR (for Radio Jamaica & Radio Fusion)
From the beginning, there was intense competition among the sound system operators. They competed for crowds, music, and eminence in the local community. Thus, the Vere John's talent exposition provided an opportunity to identify new talent that could enhance that competition. Few recording studios existed at the time. However, the sound system operators came to the show with the specific intent of identifying new talent that they could use to record exclusive Jamaican versions of American R & B and Jump Blues songs, or sometimes original materials that they played exclusively on their sound systems. These sound systems provided a reasonable alternative for the poorer sector of the population who wanted entertainment but could not afford to hire the live bands that existed at the time, such as Byron Lee and the Dragoneers, Kes Chin and the Souvenirs, and the Percy Myers Combo for their parties.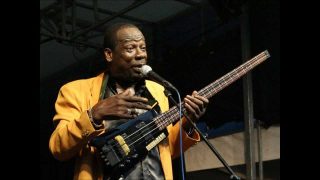 This competition among the sound systems not only laid the groundwork for today's dancehall "selector culture," but was also the foundation upon which the entire Jamaican music industry is built. The art of toasting on records flourished during this period. This consisted of rhyming vocal patterns over instrumentals that later evolved into social commentary; it also became an important part of the entertainment. Over the years this legacy has provided roots upon which multiple Jamaican musical genres emerged – from Jamaican Jump Blues, Ska, Rock Steady to today's Reggae and Dancehall.
Today, many young selectors and sound system operators have embraced the opportunities presented by new technologies to create modern Dancehall – substituting computer-assisted beats and instrument simulation for real instruments and live musicians. This is usually supported by computer-generated playlists via programs like Serato and Virtual DJ – replacing turntables. However, one sound system that has figured out how to master the new technology and new trends without discarding the foundation is Los Angeles, CA-based Kingston12 Hi-Fi. This sound system is under the direction of the super talented, master DJ, rapper, singer, songwriter, musician, and Reggae/Hip Hop artist Edmund Carl Aiken, Jr. – Shinehead (Jamaican In New York fame). His partner in life and music – Diana Camacho aka DJ Papalotl aka Buttahfly – makes up the other half of the Kingston 12 Hi-Fi team who is charting the path by showing fans how to navigate both lanes without choosing one at the expense of the other.
The sound system is named after the historic LA Reggae club venue Kingston12 which was founded by Richard O'Brian, aka King Richard, a Jamaican expatriate in Los Angeles, California who operated it as part of a restaurant /nightclub establishment. He, along with his family, ran the venue they named after the community in Jamaica that they hailed from, which of course guaranteed the authenticity of the music given Kingston12's aforementioned musical history.
The Kingston12 enterprise was also the first of its kind on the US West Coast. Richard and his family established a place where for more than twenty years Los Angeles residents and visitors were treated to live reggae performances, and/or club DJ's playing Reggae, Dancehall, and Hip Hop music, while having an authentic Jamaican meal or mellow island drinks.

Shinehead, a British born Jamaican who was already well established in New York, Los Angeles, Miami, Europe, and Japan, met King Richard shortly after he moved to Los Angeles. King Richard became ill shortly thereafter and passed away in the summer of 2014. Shortly after meeting King Richard, Shinehead quickly discovered that they both shared a musical camaraderie. He even played records on a small portable turntable for Richard as laid sick in his hospital room towards the end of his life. Although Shinehead and DJ Papalotl were away in NY performing at the time of his passing, Richard told his family that he needed someone who was committed to the music and culture to carry on the tradition he had established on the US west coast. As such, Richard's last dying request was that his vast collection of Reggae/Dancehall vinyl records would be bequeathed to Shinehead.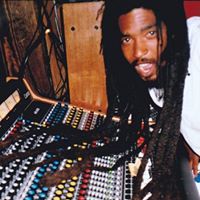 His wide knowledge of Roots, Reggae, modern and traditional Dancehall, plus his extensive experience in Hip Hop, R&B, and US rap music positioned him as the ideal candidate not only to carry on the vision of King Richard, but also to expand the foundation instituted by early forerunners Count C, Tom Wong, Clement Dodd and others – a Kingston12 legacy.
Shinehead a former major label (Elektra Records) artist inserted his brand into the Kingston12 Hi-FI concept, and in the four years since 2014, the sound system has become an integral part of world music festivals such as Rototom, Outlook, Reggae Geel, Reggae Sun Ska, and reggae music cruises – including Damian Marley's Welcome to Jamrock Cruise.
The addition of DJ Papalotl aka Buttahfly to the Kingston12 team allows them to perform at the highest level. DJ Papalotl (a public school teacher) is a multi-media artist, a sound engineer, and a videographer with a passion and skill for mixing music. One might say she brings her "magic fingers" to Kingston12 Hi-Fi. Her life as a DJ began at college parties and at her college radio station – KSPC 88.7 FM. Here, she developed her mixing skills in Reggae and Dancehall music. She progressed to become the "mix mistress" of the college parties and later graduated to local nightclubs –introducing them to her brand of Roots, Reggae and Dancehall, Hip Hop and R&B. Her extensive technical skills, combined with both her and Shinehead's knowledge of Roots and modern music, has directed Kingston12's path to be able to perform on any stage.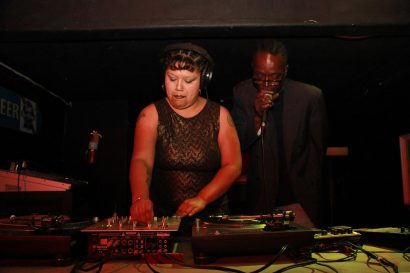 Long before Facebook Live was popular among users, Shinehead and DJ Papalotl made it part of their mission to use modern technology to elevate the sound system and Dancehall culture to a higher level. Their weekly presence on Los Angeles based – Diggindaily.com – a collective of local DJ using the digital space to take their music worldwide, together with live programs twice a week on Irish and Chin's SoundChat Radio have served to expand their worldwide audience, and build an airwave audience with their English partners, Unique Radio UK in London and Stingdem Radio in Birmingham. Their weekly live Friday night broadcast on Kingston 12 Digital Radio (Kingston12.net) gave sound system culture a presence on two of the major Digital Radio Apps for both Android and Apple products –TuneIn Radio and Simple Radio. In addition, Kingston12 Hi-Fi has also placed the sound system/dancehall culture as part of the audio programming lineup on most new V-Tuner stamped high end stereo system such as Denon, Bose and Yamaha; and on Wifi enabled radio products from manufacturers such as Grace, Sangean and Pico.
In addition to exposing the music and cultures that have provided the foundation for Reggae as an established musical genre, Kingston12 Hi-Fi has continued a sound system tradition that is not often mentioned when dancehall and sound systems are discussed. That is – identifying and launching new talents via the BUTTAHFLY FX show. Much like their forerunners Sir Coxsone, Prince Buster and more recently, Sugar Minott's Youthman Promotion, Kingston12 Hi-Fi continues to introduce the world to new talent and give established talent a platform to show the world what they have.
In the past year, listeners were introduced to young Hip Hop talent like Banga Brownin, J Niles (the Yung Ruler – son of the late Gregory Isaacs) and were re-introduced to General Smiley of Michigan & Smiley fame. Their careful selection of the music they play, together with interviews with artists and industry practitioners like music teachers from the world famous Alpha Boys School in Jamaica have lent a public media sensibility to their presentation of dancehall and sound system culture.
In the radio business these days we often say that appointment radio is dead. However, in their presentation for a live audience and/or for digital radio, Shinehead and DJ Papalotl are making sure that this does not apply to the sound system. Audience come out to see them live or tune in to their Digital broadcast because they know they will be rewarded with great music, magic mixes and most importantly, they will learn something about the music, the culture and artists.
Kingston12 Hi-Fi continues to live up to its true name – a sound system with the usual customized built set of double scoops and tops that are almost 40,000 Watts of power. Shinehead and DJ Papalotl often take out their four sets of scoops and tops for a variety of events. These events that take place all over Los Angeles, mostly in the different cultural enclaves that appreciate international music and culture. These include the Silverlake and Leimert Park downtown Los Angeles, and at venues in adjacent Culver City. Each event is usually promoted in Social Media with a theme with the hashtag (#SoundFiSound) as part of the movement to incorporate a physical sound system with relevant cultural events and affairs that promotes public service issues such as breast cancer awareness, Jamaican cultural events; and presenting local and visiting DJ's and artists.