The reggae music industry is heavily male-dominated.  Throughout the years female artists like Judy Mowatt, Marcia Griffiths, Rita Marley and Carline Davis are among the very few that became "household" names.  Today there is a new group of female artists who have kicked the door wide open. Artists like Alaine Laughton –stage name Alaine, Ventrice Morgan – stage name Queen Ifrica, Shauna McKenzie – stage name Etana, Tessanne Chin and Cherine Anderson are writing their own story in reggae music. One such artist that jumps out of the bunch is a singer who I heard for the very first time 2013 when I hosted a Friday afternoon reggae show in Tampa, Florida. Her name is Kadian Blair – sage name Ikaya.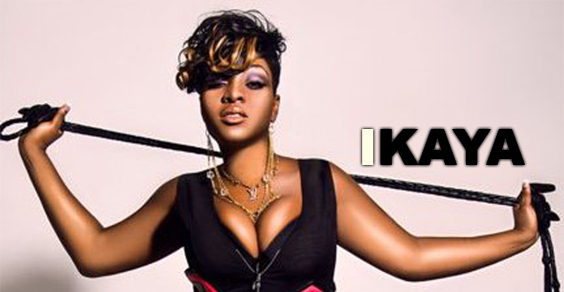 Ikaya stands out among a small group of female reggae artist and song writers who can really sing. Not women who have to purr seductively over highly syncopated tracks and auto tune – as writer Patricia Smith once note – "who writes checks with advance hype that their voices couldn't possible cash".   There is no screeching and snarling in her rhythms. There is no over sampling to attempt to hide anything in her voice. What she delivers is what you hear – all natural, all hers. Her songs come from the heart – odes of love and life.
Ikaya was born Kadian Blair in the heart of one Kingston's "tough zone" called Waterhouse (also the birthplace Jamaica's multi-Olympic gold medal winner – Shelly Ann Frazer). It is said that her parents (which include the man we call coach – Hugh "Bingy" Blair) loved R & B and classic reggae music. As a result, Ikaya began discovering her talent at the tender age of 4 – while auditioning for her pre-school choir. As a teenager she performed at various small venues and soon ventured out while still in high school with a group called B2K.  In 2001 she was introduced to the popular reggae artist Clifton Bailey – stage name Capleton, aka the Fire Man. She became a background vocalist and later opening act for Capleton – accompanying him on several world-wide tours.  She also had the opportunity to collaborate with him on one of his mega hits – a track call "Fire".
While some might reference the influence of R & B and Dancehall music on her reggae style as "old school", I simply call it original. It is original because it was R & B, American Jump Blues and Dancehall music combined with the African Kette drums that gave us reggae. Reggae music has its roots in the original sound system/dancehall culture – the culture of King Edwards the Giant, Duke Reid the Trojan, Count Bells the President and many others.
Today her extended list of hit singles includes enough songs for three albums. Her 2016 "Ugly Girl" and accompanying video had many in and out of the entertainment industry talking. Another 2016 hit "Love Note" is still in regular rotation on kingston12.net, and reggae formatted, digital stations throughout the world.  Other hit single include "My Man" (2015), "Write Your Name" (2010), "Broken Wings" (2013) and "Stuck in the Middle" (2016). Ikaya is a multi-talented artist with talents that include rapping/DJ which she demonstrated on two of her songs "Fly Away" and "Ain't Giving Up".

Her debut studio album is now past overdue, but it is in the works. She continues to write songs and record tracks for her first album –slow and deliberate like a painter doing the master piece that he/she knows will define his/her life. The album is not yet titled.  She anticipates that this album will show everyone what many of us already know – that she is a master of her craft. As she explain "All of me, my life, my experiences, love, family, friends and my surroundings. It's an expression of my versatility compiled on one CD. My greatest joy will be that my fans and friends appreciate and have fun with it!"
Ikaya has been recognized for her early contributions to the reggae music industry with a "Best New Artist", "Best Music Video and "Female Artists of the Year" awards. She continues to be in demand for the big shows and reggae music festivals as word of her talent gets around. She has performed for Reggae Sumfest (Jamaica), Sting (Jamaica), Jamaica Day (Canada), Reggae and R &B festival (New York) and most recently – the Grace Food & Music Festival (Washington).