(Over the past ten years, the face of retail has gone through significant transformation. The technologies that have disrupted every other industry have not spared the retail business. Technology has enabled and encouraged customer behavior and expectations at a level not seen in 100 years. Consumers are forced to perform a balancing act between elements of digital commerce and traditional shopping, and the digital shopping appears to be winning. As a result, if you compare the number of trips that a typical consumer made to a shopping mall five years ago to the number of trips made in 2021, you will see a reduction of almost 70%. Why is this happening? Simply because of the vast amount of information via user reviews about a product that is available in the digital space today allows one to shop from the comfort of home – saving on gas and time. Add YouTube "how to" and comparisons, websites and specialized product review sites and the amount of information available is boundless.
Two years of lock-down under the pandemic only served to accelerate the situation especially in the area of purchasing big ticket items like automobile. Now many are wondering if we are looking at the beginning of the death of the auto buying experience. Not many would miss the haggling back and forth with auto salesperson and the long wait for finance approval at interest rates much higher than what you could get on your own. The realty is this – today's consumer often enters a dealership knowing more about the automobile he/she intends to purchase than the average salesperson.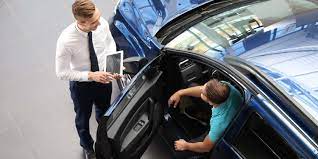 Several states still have laws on the books that shelter the inadequacies of auto dealerships. Tesla was able to find legal loopholes to skirt outdated government business protection policies governing new car purchase. Today the states of South Carolina, New Mexico, Texas, Oklahoma, Nebraska, Wisconsin, West Virginia, Connecticut, Louisiana and Alabama all have laws that prohibit or restrict direct manufacturer to consumer sales (D2C). The states of Alabama, New Mexico and South Carolina even prohibit manufacturer operated service centers. Several other states have some kind of partial restrictions on such sales. Tesla has already filed successful challenges against such laws in at least twelve states and today they are able conduct direct manufacturer to customer (M2C) sales in those states.
Although the direct to customer (D2C) sales model existed well before the pandemic, the past three years seem to have accelerated the concept and several new players have entered the market place. Well before the pandemic, German auto maker – Mercedes-Benz had introduced this model in Sweden, South Africa and India. Tesla and Mercedes concentrated on electric vehicles (EV) for their D2C sales model. However, the pandemic gave other US company the logical (and probably legal) reasoning needed to challenge state laws. Thus companies like Vroom and Carvana were able to expand the Tesla model to include selling non-electric vehicles, buying of used vehicles, and completely turned the legacy "dealership model" upside down.
Now the question everyone is asking – what does this mean for the current dealership model, including their staffing, the space requirement and the local tax they paid to small, struggling cities. While some continue to argue that the D2C sales model is more suited for EVs, people close to the industry like Tom Holgate, CEO of iLending noted "we are looking at the demise of the 900-cars, 10-acre lots". He believes "dealers will have little choice but to convert from huge shopping center–like operations to test drive and ordering sites". Holgate believes "the real estate of that suburban dealership "Auto Row" can be put to better use — the economics are simply too compelling". He noted that the giant selection of cars will be replaced by a few versions of each model. Buyers will make appointments for test drives and then order at a kiosk, or online from the comfort of home. Repair centers, perhaps a small showroom and a smaller lot for trade-ins will replace the 10-acre lots. According to Holgate, "You're likely to see micro dealerships popping up in more convenient locations, much in the same way Enterprise Rent-A-Car has expanded to neighborhood storefronts."
Others argue that dealers will remain relevant because as long as the manufacturer continues to provide warranty as part of the sales package, such work must be performed by a certified dealership. The alternative would be the setting up of "warranty stations" via agreements with independent service outlets. If this happens, the dealer will surely be out of business, since the majority of their revenue comes from providing initial financing and from undertaking post-purchase maintenance.
What is certain today is that potential buyers do not like going into a dealership. A recent JD Powers study found that 53% of auto shoppers seek to find all the information they need on the internet prior to going to the dealer. The same study found that some aspect of the sales process at the dealership is unappealing to 87% of buyers and, 61% believe they are taken advantage of at the dealership. Therefore, if buyers have access to instant information about their potential purchase, multiple delivery options, all kind of new payment options (including crypto currency), having more buying option than anytime our history – why would they spend precious time to go through the "dealership haggle"?
The bottom line is this – throughout the years, dealerships have simply served the manufacture as a matter of convenience. Going forward in the age of the EVs we will see manufacturers transition to virtual show rooms and more buyers will secure their own financing via banks or private lenders. General Motors is currently leading the charge in the development software that allows the consumer to "Shop-Click & Drive" which will enable the consumer to shop for their new car on the internet and completely bypass the haggle and time spent in a dealership. In addition, the popularity of Uber, Zipcar and Car2Go are clear indication that inner city dwellers are rapidly losing interest owning their own vehicle. The multitude of factors describe here tells me that it is just a matter of time before auto dealerships find themselves in similar position as many big department stores – innovate or go out of business.
sydney@kingston12.net