The year 2020 was an invaluable demonstration of how digital skills can help citizens connect, learn and engage with their neighbors, community and political leaders. The period has also opened a window on what our future in the digital world will look like. It highlighted the vital importance of having the digital skills necessary to engage in the new digital economy – an economy which will define our livelihoods for the next several decades. Today, it is absolutely imperative that the meaning of the term "literacy" be expanded to include some level of digital learning.
While the basic concept of digital literacy is still based on reading and writing, the addition and use of technology to receive, send, analyze, and create, require a much broader skill set. The American Library Association's digital literacy task force defines digital literacy as "The ability to use information and communication technologies to find, evaluate, create and communicate information, requiring both cognitive and technical skills". Professor Hiller Spires at the University of North Carolina references digital literacy as having three levels – "finding and consuming digital content, creating digital content, and the ability to communicate and share digital content." All this involves the ability to learn how to effectively use devices, software and the internet to collaborate with others and create, discover, to search for and use information.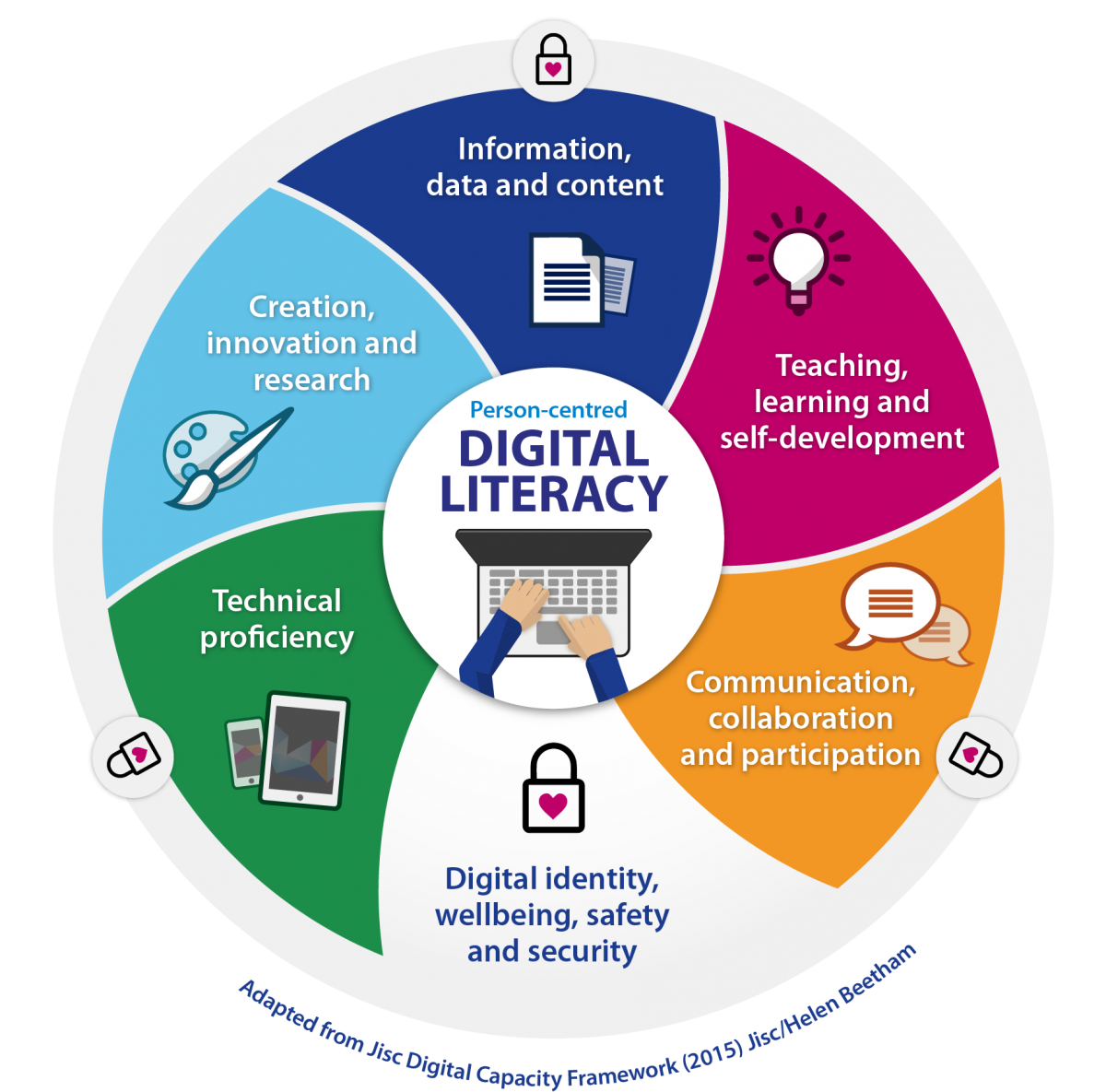 Going forward, digital literacy (having digital skills) will play a significant role in helping citizens to connect, learn, engage with communities, with co-workers and collaborate with team members in creating the future of the world we live in. It will enable citizens or individuals to gain the necessary digital skills that are paramount to engaging in today's digital economy and improving one's livelihood. In the 21st century, digital literacy is the new, required currency for national development.
Today, large technology companies like Qualcomm, Microsoft and Apple either offers or collaborates with universities to offer programs in digital literacy. Apple executives describe digital literacy as a "key to development of 21st century skills". Microsoft's program is offered in twelve languages via on-line learning. The course is designed for anyone with basic reading skills who desire to learn the fundamental tools of digital technology. Apple partners with University of Southern California to offer "Digital Literacy: Faculty Edition". The only problem is – the course material is only available in the ITunes U App for iPhone and iPad. The course focuses on integration of a variety of technology-based learning tools in curriculum planning to provide students with opportunities for interactive and engaging learning experience. Apple is also making large investment in digital literacy projects in several countries across the world.
A new collaboration between some of the top digital companies and universities in the United States, called Collaborative Leaders in Academia and Business (Capital CoLAB), plans to drive efforts to increase the number of graduates with refined digital skills, develop cutting-edge technology and improve innovation in the capital region, from Baltimore, Maryland to Richmond, Virginia. Companies such as McKinsey & Company, General Dynamics, Amazon, Northrop Grumman and JP Morgan Chase are involved with several Washington DC – Virginia – Maryland area colleges. The primary goal is engage more than 45, 000 students by the year 2025 – 50% of whom come from an underrepresented population.
The collaboration will take a two-pronged approach. First, it will use credentialing to teach students skills relevant to what partner corporations believe will be useful in the working world. Second, it will showcase the latest technological innovations, research and thought-leadership coming from these companies.
To date, most of the discussions on digital literacy have focused the acquisition of digital skills. However, the rapid development of high speed internet (e.g. 5G) and social media is shifting the focus to mobile technologies and devises, in-car devices that can access the internet and social media while you drive, voice activated devices; artificial intelligence and home/business security have expanded the discussion into the basic springboard that will form the foundation of the next phase of the world's economy – the New Knowledge-based or Digital Economy. Devices such as electric vehicles with all the social and mobile media currently available at home and in the office are about turn our world of work, communication and media consumption upside down.
So where do we go from here? – In reality, digital literacy is a lifelong learning process involving capacity building for using digital tools, communication tools and/or networks in creating, accessing, analyzing, managing, integrating, evaluating, and communicating information in order to function in a knowledge based economy, and in a society where "distance" is greatly minimized. Such lifelong learning has to begin urgently and occur at all levels of the learning curriculum, including continuing education for those who just need to catch up. The goal should be national and really simple – to create "digital citizens" who have the ability use technology to interact with the world around them, to communicate and collaborate with partners domestic and worldwide, and most important, to be able to participate in remote learning and to take advantage of remote work and other opportunities made possible by the new, enhanced knowledge-based economy.
sydney@kingston12.net