Three or four years ago one of the hottest portable audio items one could have was the BOSE SoundDock Portable Digital Music Player – Series III. It has a docking "station" that allow you to load your music library on your IPhone, IPod, IPad or any other music player and take it with you – giving you the ability to have a party anytime or anywhere. Many lovers of great audio still believe that this unit is the best audio play-out unit made to date. This unit was later replaced by the BOSE SoundDock 10 Bluetooth Digital Music unit. Then recently Bose introduced two new versions (but lesser audio quality) of this unit, also with Bluetooth – the SoundLink- Series III and the Sound Touch Series I. This means you no longer needed to attach your player (IPod, IPhone, etc.) to the docking station. Instead, you connect via Bluetooth.
Personally, I have listened to the new units and that experience only made me have more love for my SoundDock Portable Digital Music Player – Series III. Thus I set out to find a way to make my Series III unit Bluetooth compatible. For less than ten dollars ($9.99 at Tuesday Morning) I was able to find an Xtreme 30 Pin Bluetooth Adopter (sells for $21.95 at amazon.com).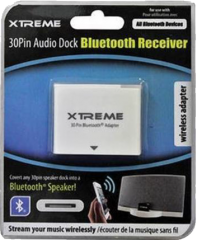 This device turns any unit that can attach to the old 30 Pin IPod/IPhone connection into a Bluetooth link. I also understand that the Samson 30 Pin Bluetooth Receiver (model # SABT30 – sells for $19.99 at amazon.com) also works. Unfortunately, neither of these devices works with newer apple devices with lighting connection. Today I am as happy with my SoundDock Portable Digital Music Player – Series III as the first day I bought it. It is still the first thing that goes into my carry-on bag whenever I start packing for vacation.