New Music
Eddie Murphy dropped new reggae single titled "Oh Jah Jah" in January. The track is on VPAL music and is distributed by VP Records. Murphy wrote and co-produced the record with Ralph Hawkins and Trenten Gumbs.
Mystic Revealers are back together after Fifteen year to release their new album titled "Crucial Cuts". The album is available on VP Records new Dub Rockers label. The album reunites the quartet of Billy "Mystic" Wilmot (vocal, guitar), Leroy "Lion" Edwards (bass), Nicholas "Drummie" Henry (drums) and Steve Davis (guitar and vocalist). Popular artists Sizzla, Anthony B and Chronixx contributed to the album.
Gone Too Soon
T Boots Harris, a friend, journalist and entertainment consultant, music industry insider and radio host died of a heart attack in August 2014 at the young age of 69. Harris was a big part of the Jamaican entertainment industry and "advisor" to many young reggae artists for more that forty years.
Hopeton Lewis – Montego Bay born reggae star turned Gospel singer left us in September 2014. Lewis became a household name in Jamaican music in 1966 when he joined Trinidadian – Lyn Tait's band to recorded one of the country's first reggae hits title "Take It Easy". He followed up with several huge hits – the biggest – his 1970 festival song titled "Boom Shaka Lacka". He released his first Gospel album in 2000.
Uziah Thompson – known to most reggae musicians, promoters and media as "Sticky", one of reggae industry's most accomplished percussionists died in August 2014. Sticky gave more that 50 of his 78 years to the reggae music industry. The long list of artists, whose music he "decorated" included The Wailers, The Mighty Diamonds, Alton Ellis, Dennis Brown, Jimmy Cliff, Ken Boothe and Gregory Isaacs.
John Holt – a true legend in Jamaican culture died at the age of 67 in October 2014. The former lead singer of the Paragons and later an extended solo career was a key building block of both the Studio One and Trojan labels.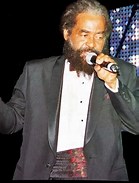 The singer/song writer was responsible for one of Jamaica's earliest international hits – The Tide is High – covered by international star Blondie. Throughout his career Holt released 54 albums, including the classic collaboration with the Royal Philharmonic Concert Orchestra in 2001. His body of work earned him the national honor of Order of Distinction (Commander Class) by the Jamaican Government in 2004.